We are very excited to announce the release of Dancing Wayang's 10th LP – the studio recording by Argentine guitarist Alan Courtis (Reynols) & British drummer / multi-instrumentalist Aaron Moore (Volcano The Bear) called Bring Us Some Honest Food. Recorded last year at London's Fish Factory this limited edition LP album is pressed on 180 gram black vinyl and comes housed in our customary hand-screenprinted wrap-around sleeves.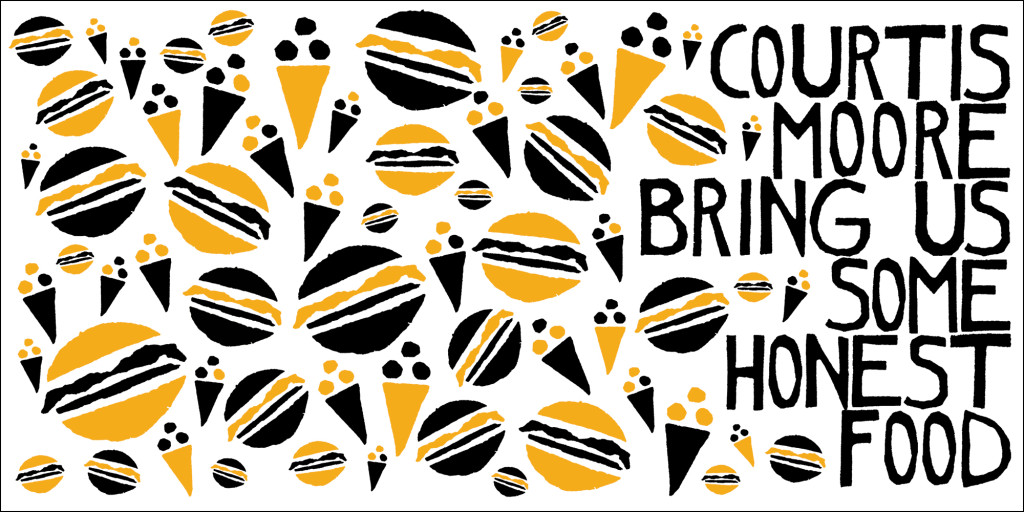 It is a disorienting experience to listen deeply to Bring Us Some Honest Food. These lengthy pieces sound densely structured and composed with the precision of a Glen Gould tape edit, but with a seat-of-yr-pants improv feel which brings the threat of collapse and chaos. In that sense it echoes krautrock pioneers going crazy with tape and razor blades decades ago, with a similarly kosmische expansiveness, but filtered through a wealth of avant knowledge and praxis. In short, neither salon nor sweat-pit, though informed by both.
Liner notes come courtesy of Tom Recchion (LAFMS, Smegma) who says that "These guys aren't following anyone. Stopped dead in my tracks, trying to be fair, objective, but when music humbles you, that is when it becomes so glorious, stupefying and has the power to bring one to their knees."
The LP comes with a free digital download when purchased directly from our web store HERE. The first 100 copies also come with a free 3″ bonus CDR featuring an extra special blend of Courtis / Moore sounds.
Stream a track from the album on Soundcloud.
Buy a copy in our STORE.