Electronic Press Kit – PLUG MUSIC RAMOON by Astral Social Club
Artist:
Astral Social Club
Album: PLUG MUSIC RAMOON
Format: LP album
Cat. Number: DWR003
Limited Edition: 500
Release: 2008
Distribution North America: Jimmy at Forced Exposure
Contact: Anna at Dancing Wayang Records
Artist Webpage: Astral Social Club
Dancing Wayang Records are proud to present the new studio-recorded, full-length album by Neil Campbell's ASTRAL SOCIAL CLUB. Featuring two tracks of fearless sonic bliss and two long journeys to a state of sustained ecstasy "Plug Music Ramoon" was recorded in one day on analogue 2" tape. This limited edition 12" comes housed in a gorgeous hand-printed silkscreen sleeve.
Sequenced in chronological order on the LP as the tracks were recorded in the studio, the opener 'Flamingo Moon' takes off into outer space. It's a gentle start to the impending Astral chaos as the rambunctious 'Punk Rocker / Mug Cracker' noisily propels itself and its passengers forwards. This 14 minute showdown is divided into two parts with the loose, drum-led Punk Rocker submerging into the swooping sonics of the Mug Cracker. Side 2 introduces a playful element into the spiral density with percussive sticks and bells providing a tribal backdrop for resonant electronics, keyboard odysseys and some experimental vocal work from helmsman Neil Campbell. After a wild solar adventure, the album culminates in 'Ramoon Ramoon', a considered and tight improvisation that steers the Club homeward.
Whilst Club member John Clyde-Evans's laptop contributions provide much of the backbone groove of the album, Stewart Keith adds light and shade on a variety of keyboards and toys. But it's Campbell's dense guitars that thicken the very stem of these four tracks and leads his Astral Social Club to conjure up his dreams and visions.
Click here to download the full press release: pdf / Word document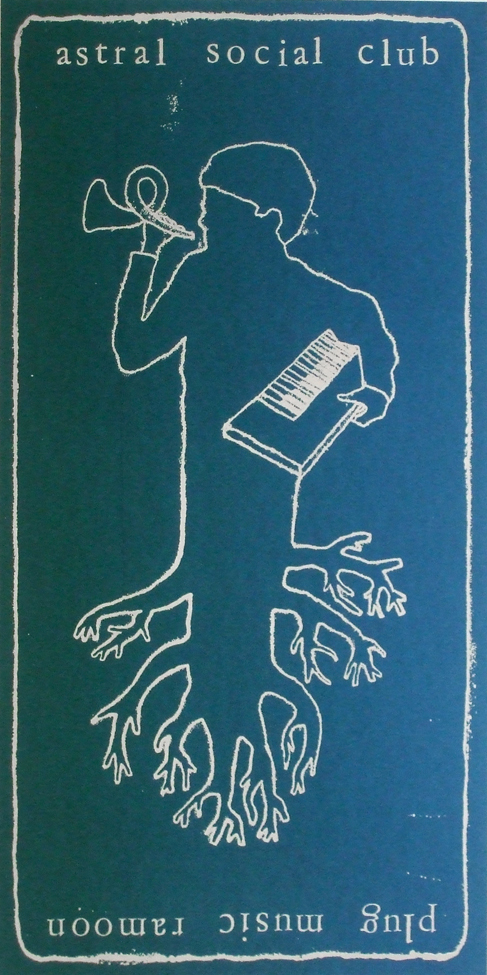 Please note that all material (audio files, photos etc) on this page are for review purposes only and may not be distributed in any way without prior written consent from the artist and the label. All copyright Astral Social Club and Dancing Wayang Records.
Tracklisting:
Side A
Flamingo Moon (5:01 min)
Punk Rocker / Mug Cracker (14:06 min)
Side B
Don't Stomp On The Silverfish (13:08 min)
Ramoon Ramoon (7:38 min)